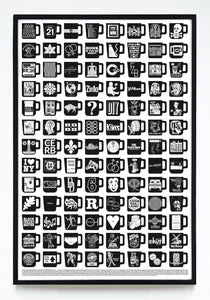 Design: Raymond Beisinger
This is an illustrated and collaged set of 104 real, almost-real and definitely-not-real coffee mugs shoehorned into one enormous print. You could also call it a coded autobiography via modern hieroglyphics, and it sports footnotes (at bottom) to give you a scant hint at provenance and meaning. 
Digitally printed at 24" x 36" with a half inch margin so it fits standard picture frames. Printed in an open edition, signed and dated on reverse.