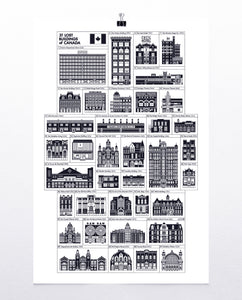 Design: Raymond Beisinger
From Raymond:
Since 2017 I've been immersed in the research and illustration of vanished Canadian architecture, and besides the surprise national bestselling book on the subject I've also made fourteen prints capturing our nation's prematurely bulldozed, burned down, or otherwise disappeared structures of note.
Screen printed at 24" x 36" with an approximate 1.5" margin so it fits standard picture frames. Printed in an open edition, signed and dated on reverse. Watch a YouTube video about the prints.