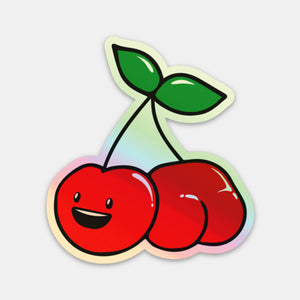 Design: Brooklyn Carriere
A cheeky ode to friendly fruit and fannies, this sticker, designed by Saskatoon-based illustrator Brooklyn Carriere is sure to evoke a smile (or two!) wherever you like to make an impression.
Our first holographic sticker, Cherry Butts measures 3" x 2.75". And don't forget, we offer $3 shipping on stickers. Or free pick-up in Saskatoon.